The NRL and State Leagues run a number of harmony and multicultural tournaments across Australia. These tournaments provide opportunities for players an volunteers from Culturally and Linguistically Diverse (CALD) communities to participate in teams that represent their community, culture or nation of Origin.
The map below outlines the areas where the NRL and State Leagues run tournaments and offer participation opportunities to CALD Community Participants.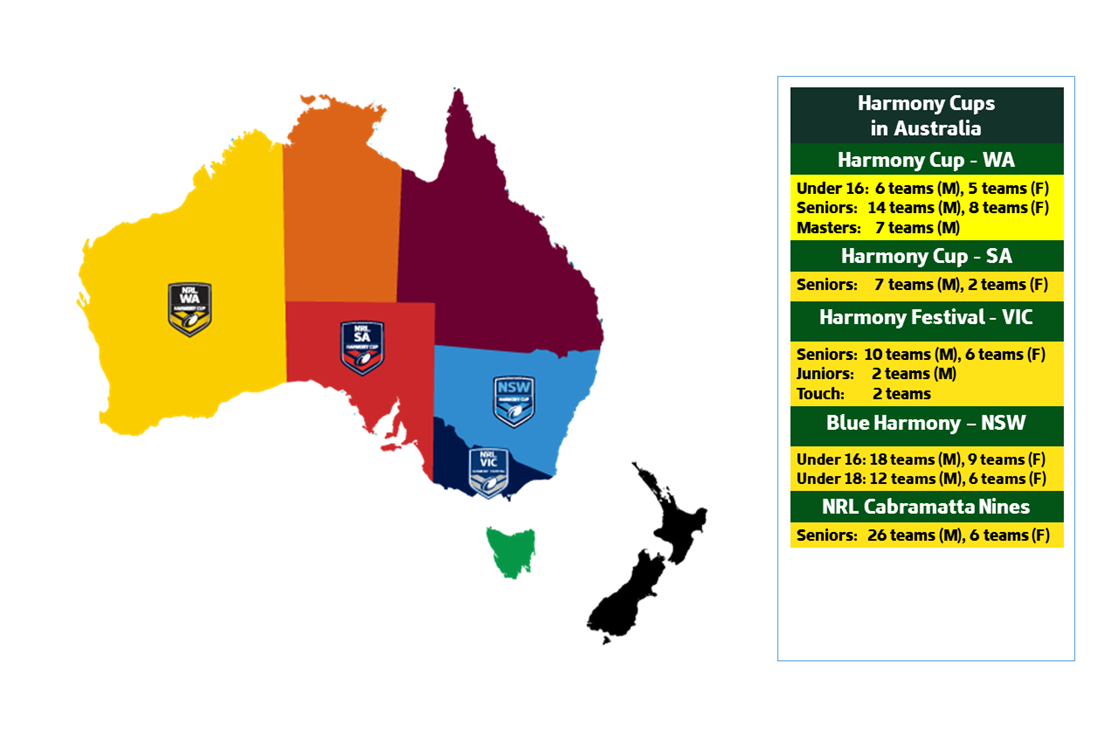 NRL & RLIF
Cabramatta Nines
Date: Saturday 1st February, 2020
Time: 10:00am to 8:00pm
Venue: New Era Stadium, Cabramatta
Overview: The Cabramatta Nines is an open age 9-a-side tournament, held in Cabramatta in Sydney's South West. It comprises 32 teams, with 26 mens teams and 6 womens teams, as well as a Physical Disabilities Rugby League exhibition match. Teams representing clubs and countries hailing from a variety of regions such as Europe, Asia, South America and the Pacific Islands. National representative teams that participate include Vietnam, Turkey, Sudan, Africa United, Japan, Colombia, Malta, Italy, Ireland, Niue, Cook Islands, Philippines, Chile, ASEAN South East Asia. Several NSWRL clubs will also play.
For more information, please contact NRL at harmony@nrl.com.au
---
New South Wales (NSWRL)
Blue Harmony - Harmony Cup NSW
Date: October 2020 (TBC)
Venue: Multiple venues (TBC)
Age groups: Under 16 (& Under 15), Under (18 & Under 17) (Boys and Girls)
Overview: Blue Harmony is an event for players to represent their nation or culture, for players that have not achieved selection in the NSWRL Harold Matthews Cup and SG Ball Junior Representative competitions.
Teams that have participated in previous years include RL Samoa NSW, Cook Islands, NSW Maori, NSW Indigenous, Australia-Fiji, Italy Young Azzurri, Africa United, a combined Mediterranean-Middle East RL team, Malta Heritage, NSW Tonga, Latin Heat and Lebanon.
For more information, please contact the NSWRL Community Football team at communityrl@nswrl.com.au


---
Harmony Dinner
Date: October, 20 (TBC)
Time: TBC 
Venue: TBC
Overview: 5 players and staff from each Harmony Cup team have previously attended a dinner to celebrate the tournament, culture and diversity.


---
Harmony Walk
Date: November 2019 TBC
Time: 9:00am (TBC)
Venue: TBC
Overview: Harmony teams invited to join with NRL for a community initiative 'Harmony Walk' which aims to unite our diverse communities in a walk and community festival.


---
NRL Affiliated States

Victoria (NRL Victoria)
Harmony Festival
Date: October 2020
Time: TBC
Venue: TBC, Melbourne
Overview: Harmony Cup Victoria is an event that allow NRL Victoria registered players (18+) to represent their culture. The tournament comprises teams that represent nations. Previous nations to take part included Fiji, Samoa, Tonga, New Zealand, American Samoa, Niue, Australia and Harmony.
For more information, please contact the NRL at harmony@nrl.com.au
---
South Australia (NRL SA)
Harmony Cup SA
Date: Sunday 24th February 2019
Time: 10:00 am to 3:00 pm
Venue: Dry Creek Rugby Oval, 80 Churchill Road North, Dry Creek, Adelaide, SA, 5094
Overview: Harmony Cup SA provides NRL SA players with a unique representative opportunity in an event that embraces and celebrates South Australia's multicultural community. The Carnival features All-Stars teams representing South Australia, Indigenous, Pacific Islands, New Zealand, England/GB, and a World team.
For more information, please contact NRL SA at infosa@nrl.com.au
---
Western Australia (NRL WA)
Harmony Cup WA
Date: Friday 22nd to Sunday 24th November, 2019
Time: 5:00pm 22nd to 5:00pm 24th November
Venue: Rockhingham Sharks, Lark Hill Sporting Complex, Warnbro Sound Avenue, Port Kennedy, Perth, WA, 6172
Overview: Harmony Cup WA provides participants the opportunity to represent their country of origin, meet and connect with new people from a variety of Cultural backgrounds and most importantly, have fun through playing Rugby League. The event features teams representing Great Britain, Indigenous WA, Samoa, Tonga, Cook Islands, Papua New Guinea, Tokelau, Niue and a Colonials team. 
For more information, please contact NRL WA at admin@warugbyleague.com.au